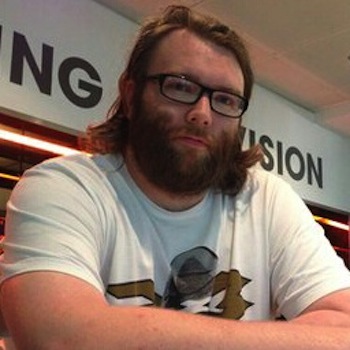 Name and Twitter handle:
Aj Grand-Scrutton, @dnost
What do you do now?
CEO, Dlala Studios a small independent game studio I formed with my friend Craig Thomas
Birth place:
Bas Vegas (Basildon, Essex)
Currently residing where in the world?
Witham, Essex (Can't escape)
Favourite video game of all time?
Day of the Tentacle by LucasArts (R.I.P)
What was the last game you enjoyed and why?
The Last of Us, it's one of the most complete entertainment experiences I've played in a long long time. I got so immersed that I ended up completing it less than 24 hours after buying it.
Please describe any of the bullying you experienced.
I actually got bullied quite a bit through both primary and secondary school. I've always been large both in weight and height and this really meant two things. Firstly I dealt with fat comments a lot and secondly, and probably worst, due to height and build there were twats who saw it as a challenge to fuck with me. Secondary school i had phones stolen and friends then text horrible messages from them, my bag was ruined, lunch box repeated taken and smashed up all just cause it was some fun for a bunch of idiots.
When did you finally learn how to manage the bullying? How?
I had an amazing head mistress who I befriended and she had zero tolerence for bullying. People often view opening up to teachers negatively as if its 'telling' on people but quite often you need that external support to get through it.
What effect do you think bullying had on you?
It definitely had both positives and negatives, negative wise I suffered from anxiety in my late teens early twenties. Positive, as cliche as it sounds, it made me a hell of a lot stronger and made me appreciate those around me who care. It also gave me major empathy and a real desire to not see people trodden on through those who think they are stronger, that could be viewed as positive or negative due to some interactions that caused with teachers, managers etc… haha
How is your life better now? (Feel free to touch on every cool thing about your life now)
Ah man my life rocks now. From a personal perspective I've had the same best friend for like 15 years, been with my lady nearly 4. I've toured the country and had music videos on tv with my band "Who's Driving? Bear's Driving!". From a work perspective I won a BAFTA as a programmer on a game called 'Monstermind' then in 2012 started my own game studio. In our first year we released a Windows 8 launch title in 9.5 weeks, were cover story of Develop magazine, got nominated for 2 Develop awards, made the top 100 UK developers list and are currently making a game with Microsoft.
Did you think your life was ever going to be this good?
I always knew I would push to make it good, cause at the end of the day only you can do it. But I never dreamt it would be this good.
What would you like to say to a youngster thinking about getting into video games who is experiencing bullying right now?
Don't let bullying define you, it's your accomplishments in life that make you you. Games are there to allow you to express yourself and vent to the world, find something you love and put something out there for the world to love with you. People are good so don't let the few taint the whole for you.